Russia Suffers Heavy Casualties; Lost half of Its Regional Force
Reports coming in says Russian and Russian-backed separatist forces in the Donetsk region of Ukraine have suffered heavy casualties in the region.
They estimate the Donetsk militia alone has lost 55% of its original force.
Russian forces are focused on conquering all of neighbouring Luhansk, aiming to encircle the city of Lysychansk, say Ukrainian leaders.
Regional chief Serhiy Haidai said there had been "colossal destruction" in the city.
He said the situation in its sister city of Severodonetsk was "hell", and quoted the mayor as saying some 7,000-8,000 civilians remained there.
UK military intelligence said Russia was very likely aiming to deploy a large number of reserve units to Ukraine's eastern Donbas, which is made up of Donetsk and Luhansk.
It drew attention to the "extraordinary attrition" suffered by Russian and Russian proxy forces in Donbas. While Russia has for months avoided detailing its casualties, the human rights ombudsman in the so-called Donetsk People's Republic said last week that 2,128 of its forces had been killed and 8,897 wounded. A further 654 civilians had been killed, said Daria Morozova.
Ukrainian President Volodymyr Zelensky said in his late-night address on Tuesday that while Luhansk was currently the toughest area, the invading army was also "putting serious pressure on the Donetsk direction".
In a separate development, Russian forces fired seven missiles at the southern city of Mykolaiv on Wednesday, according to local leader Vitaliy Kim, who did not give details of casualties.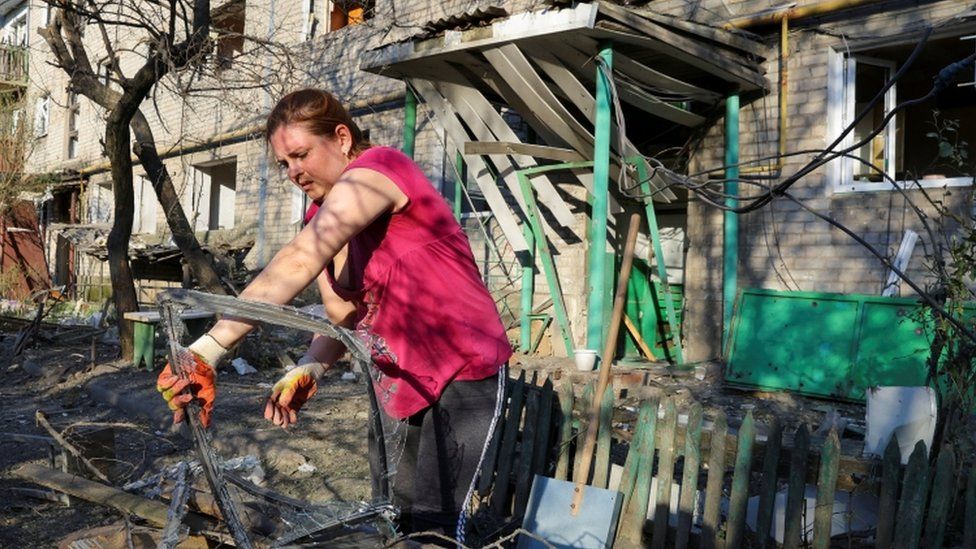 In its daily briefing, UK intelligence said the casualties suffered by Donetsk's proxy militia amounted to 55% of its original force.
For months there have been reports of civilians being conscripted into the militia by force, with low morale and poor quality weapons, including rifles that went out of service decades ago. Last month, Ukraine's SBU security service claimed militiamen compared conditions to slavery and were ready to desert.
Disaffected former proxy officials such as Yevgeniy Mikhailov said last month that untrained reservists from Donetsk had been sent to the front line because Russia had stopped sending conscripts. One resident told the BBC last month that there had been "tragedies everywhere".
This week the proxy administration said it was offering one-year contracts to foreign mercenaries to join its forces.
Credit: BBC